Point Pleasant Beach Boardwalk,
Amusements & Arcades
---
The Famous Boardwalk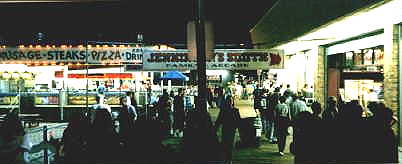 The Boardwalk Facing South of Arnold Ave.
In the summer, our boardwalk comes alive! Friday and Saturday Nights are packed with visitors from all over the area. Weekdays are typically not crowded until school lets out in mid June. The municipal parking lot is metered and a quarter buys you 20 minutes. There are also a few private pay lots that charge from $4.00 to $12.00 depending on the crowds and the time of year. You will find metered parking on Ocean Avenue and a few adjacent streets. If free parking is what you have in mind, be prepared to walk a few blocks!.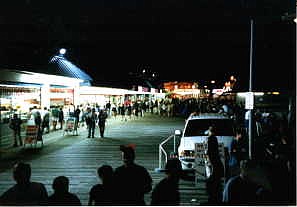 The Boardwalk Facing North of Arnold Ave.
All along the southern stretch of the boards (where the action is,) you will find arcades, wheels of chance, games of skill, food, rides and gift shops. I wonder what the hot item will be this year? Hopefully not that Billy Bass talking fish again!
Jenkinson's Aquarium is located on the north end (of the attraction's area) and there is a fun house right near the middle. Additionally you will find Martell's Tiki Bar and Jenkinson's Nightclub here. Further North, you will pass many shore homes with boardwalk front property.
On the corner of Water Street and the Boardwalk in the residential area, you are bound to hear the sounds of Frank Sinatra playing! A local resident has become well known for having the "Sinatra House" by playing "Old Blue Eyes" through outdoor speakers facing the boards. As you pass, notice how everyone points to the lattice around the deck to where the speakers are kept! Continue North and you will come to another outdoor eatery, an ice cream palace and a gift shop.
Just further along, the boardwalk ends at the Manasquan Inlet where you will witness many commercial fishing vessels, Party boats, as well as recreational boaters cruising in or out from the Atlantic. This is also a prime fishing area!

Boardwalk Facing North from the Inlet (Winter)
In the winter, the action slows. On nice days, you will see many locals and a few day-trippers walking along the boardwalk. On cold, rainy, or just downright miserable days, the boards can get empty. Some days, you may just be lucky enough to have nice weather and the boardwalk all to yourself like in the scene above. Winter may in-fact be one of the best times to enjoy Point Pleasant Beach