About Point Pleasant Beach

Attractions - Attractions nearby the Point Pleasant Beach area

Beach Info - Beach description and access to the shore

Boardwalk - Visit the famous Point Pleasant Beach Boardwalk! Includes description and visitor information

Event Schedule - Find out what's happening on YOUR next visit to Point Pleasant Beach!

Fishing - Fishing information covering the bay and ocean waters

Scuba Diving - Are you a diver? Then click here and see what the underwater world around our town has to offer!

Seafood Festival - Information on the popular Festival of the Atlantic held each September in our downtown area!

Transportation - Transportation to and from Point Pleasant Beach, NJ by train, car or yacht!
---

Point Pleasant Beach Municipal Website

Advertising Information

Shore Advantage Contact Information

POLICE, FIRE AND EMERGENCY INFORMATION

Accommodations - Directory of Hotels and Motels and Inns of the Point Pleasant Beach area

Activities & Entertainment - There's never a lack of things to do in the Point Pleasant Beach area - click here for a few ideas!

Antiques - Point Pleasant Beach offers antique shoppers a large selection of shops and boutiques

Bait and Tackle - Here are some area bait & tackle stores - stop in before you sail to get your supplies and local information.

Charter & Fishing Boats - Our complete directory of nearby top fishing charters and party boats sailing out the Manasquan Inlet year round

Health, Fitness and Beauty Spas - Point Pleasant Beach has some health, fitness and spas that you can use as a local resident or while vacationing!

Marinas - Boating Marinas featuring Kens Landing. Dockage with quick access to the ocean via the Manasquan Inlet

Multimedia - Lifestyle, History & Education in Point Pleasant Beach

Nightlife - Listing of establishments offering entertainment during the evening hours

Realtors - Looking for a shore home? Here's a listing of realtors covering the area

Restaurants & Family Dining - Directory of many fine local restaurants for your dining pleasure. Seafood, Italian, Mexican and more!

Water Sports - From parasailing to to kayaking and Jet skiing, you'll find it here!
Shore Advantage Local Town Guides

Seaside Heights - Visit our neighbors at www.seasideheights.net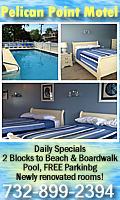 Welcome to Point Pleasant Beach!
Our site is a commercial site designed to showcase local establishments by providing customers a web presence at the lowest possible cost. By further using this site, users agree to waive any and all claims of liability against NJ MetroNET, Inc./Shore Advantage. Opinions expressed within pages or links are just that, opinions. User input may be unedited, caution is advised. Information presented is thought to be reliable but can not be represented as such. Please use this site for a general guide. All information should be confirmed through township, local business or other sources. Enjoy the site!